Registration for the 10th IDHO and the NHC is open!
The International Dutch Hickory Open (IDHO) 2019 will be held on Friday and Saturday, September 20 and 21 directly followed by the Nunspeet Hickory Championshipp (NHC) on Sunday, September 22.
Because this is the 10th IDHO, the program has been extended with an extra match on Friday, September 20 on two completely different courses: The Historische Heidegolf Ullerberg and the brand new course The Links Valley on the same estate. Together with the NHC on Sunday this makes for 3 days packed with hickory.
On Friday September 20, we gather at the brasserie of The Links Valley at 10:30 where the flights will be announced. We tee-off at 11:00 for a match over 18 holes: 9 on The Links Valley and 9 on the Heidegolf. The match will be concluded with a prizeceremony in the Brassery.
Directly following this prizeceremony, the traditional reception will start in the 'Grote Huis' on the Ullerberg estate followed by the notorious IDHO dinner. The kitchencrew will again go all out to celebrate this 10th edition and make it an unforgettable event.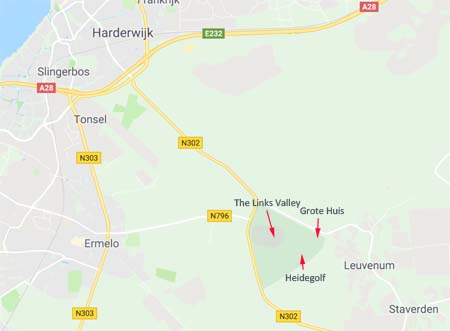 On Saturday, September 21, you are all welcome again to gather at the Boshuis at 09:00h to get ready for the 18 holes on the heidegolf to determine which couple may hold the Waller trophee at the end of the day and, not unimportant, who can claim the title of the best-dressed player. In between we will serve the (in)famous rustic lunch and a cup of soup and drinks during the prizeceremony in the 'Grote Huis'. Food and drinks are included in the fees for reception, dinner and the match on Saturday.
Sunday September 22 the NHC will be played on the great course of Rijk van Nunspeet, only a few kilometers away from the Ullerberg estate. Starting from 09:30h with coffee and tea with first tee-off at 10:30h. The prizeceremony will be held during a spectacular high tea.
Registration for either the dual match on Friday and/or the IDHO and/or the NHC can be done through this website.
For further inquieries mail us at idho@ullerberg.nl or call +31 6 5515 6884.
We look forward to meet you in September!